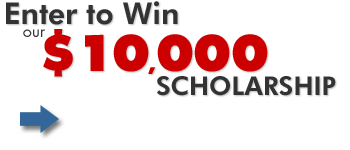 Welcome to FreeCollegeScholarships.net
Register to WIN a $10,000 SCHOLARSHIP!
Steps to winning a $10,000 scholarship:
Complete the registration form on this page.
You are now registered for our next Scholarship Drawing!
You can, then, view information available from a variety of schools and if you like, request information or search for a student loan. You are not obligated to view or request information from any of our advertisers and doing so does not increase your chances of being awarded our Scholarship.
Please help us continue to offer our scholarship by supporting our sponsors on our website. Serious inquiries only are preferred. Your chances of winning will not improve by signing up for their products and services.